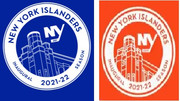 ---
The header (as always) is a work in progress, & normally would include a Robin Salo, Simon Holmstrom, Samuel Bolduc, Anatoli Golyshev, it's been a long time having a full time header here. Nystrom award winner, Pageau has been added to the historial page, and the first Belmont logo, despite my thoughts.
---
#Isles Transactions: Samuel Bolduc, Anatolii Golyshev, Richard Panik and Robin Salo have been loaned to Bridgeport (AHL).

— New York Islanders (@NYIslanders) October 11, 2021
---
Robin Salo, Samuel Bolduc, Anatolii Golyshev and Jakub Skarek sent to the AHL.
---
---
Aside from maybe Golyshev, none of these players require waivers to be sent down.
---
---
That leaves Komarov (cleared waivers before) vs Johnston (would likely clear waivers) vs Aho, vs Bellows. (who likely would not clear waivers)
---
Michael Dal Colle apparently does have an NHL/AHL contract, and was placed on waivers.
---